Live stream hybrid and virtual events to global audiences
Dolby Millicast delivers broadcast quality live streaming at sub-second latency, enabling interactivity and audience engagement.

Live Stream Event Features
Engage your audience
Did we say worldwide? Dolby Millicast is a true global content delivery network (CDN) with data centers dedicated to streaming in the Americas, EMEA, and Asia-Pacific.
With our distinguished 60-year history in providing outstanding audio and video solutions, Dolby Millicast offers enterprise and developers an unparalleled combination of timeless expertise, proven results, long-term stability and trust – exactly what you need when running a live event.
We understand that latency is disruptive and leads to poor engagement. That's why Dolby Millicast streaming ensures your content reaches audiences in less than 500 milliseconds – no matter where they are or what device they're on.
Get maximum shelf-life from your event by transforming it into evergreen content. Leverage recorded content for sales, internal training, or other use cases. Dolby.io has a toolbox of media post-production APIs that let you enhance the quality of your recorded audio and prepare files for playback across multiple systems and scenarios through transcoding.
Trade shows & conventions
Corporate summits and boardroom meetings
Hybrid and virtual event platforms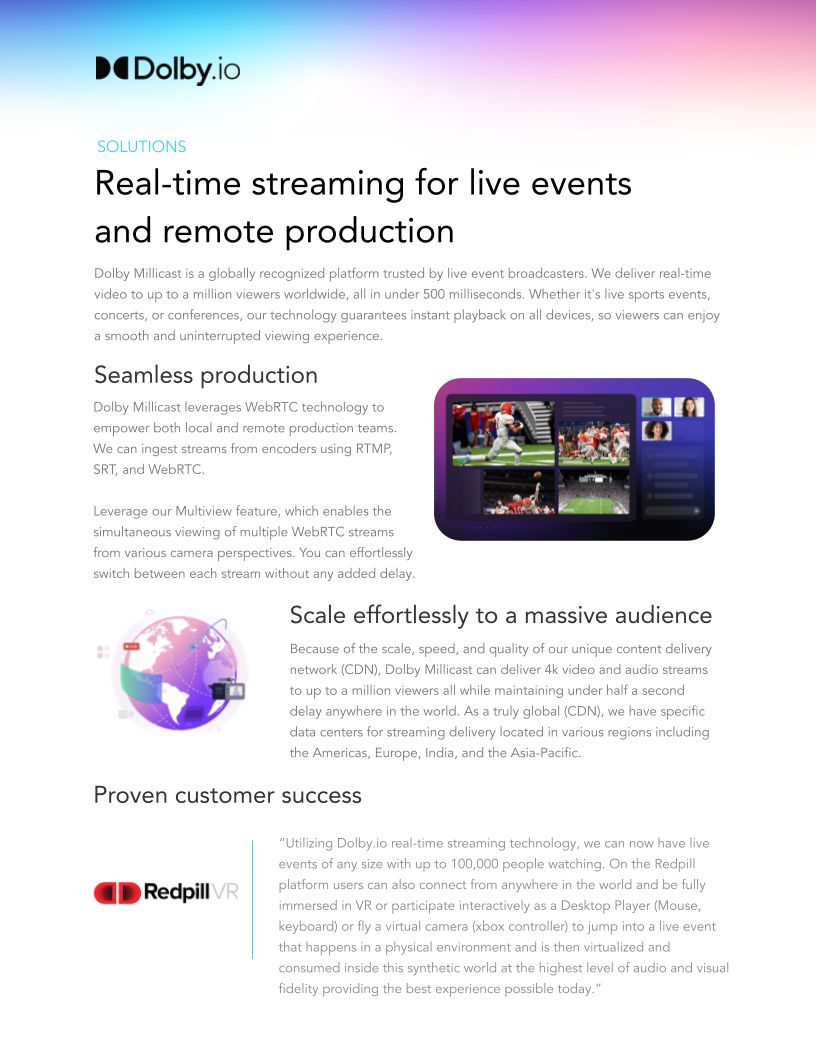 Learn more in our live events and remote production solutions brief
Dive into our solution brief to learn how Dolby Millicast enables real-time streaming to massive global audiences and seamless production for live events.
Get started
Engage audiences with Dolby-quality audio and video for live events
No credit card to start. Get a $50 credit just for signing up.